Of course, finding a great lacrosse head is easier said than done. In the first place, that term is relative. Finding great lacrosse head is often depends on who you are as a player. This is because the head of your lacrosse stick acts as an additional appendage for the player. That said, you need to pick a great head that complements your play style and identity as a lacrosse player.
In this article, we'll present a comprehensive list of the best lacrosse heads for 2023 in the market today.
Top Rated Lacrosse Heads for 2023
STX Lacrosse Fortress 700 Strung Head
STX Lacrosse Crux 600 Strung Head
Best Lacrosse Heads for 2023
The following are a couple of the Best Lacrosse Heads for 2023. We've tried to make it as comprehensive a guide as possible, featuring several types of lacrosse heads. This way, you will have no trouble finding one that suits you perfectly.
Some of Lacrosse Heads Reviews for 2023
1. STX Lacrosse Crux 600 Girls Strung – Best Girl's Lacrodse Head
With the game of lacrosse being played at college and high school levels, younger girls and young women are steadily becoming elite figures of the sport. That means that there is also a growing demand for quality lacrosse sticks for girls. That said, we have the STX Lacrosse Crux 600. With its extreme precision and accuracy, it rightly deserves to be called the best girls lacrosse head.
This lacrosse head features 2 new pocket features that target optimal flex points and provides its user with dynamic control. This makes on-game adjustments that much easier. In addition to this, the Crux 600 makes full use of groundbreaking drop rail technology which effectively promotes better ball retention while giving players a wider range of motion. Both of these elements should give you enough reason to check it out.
2. STX Lacrosse Eclipse 2 Unstrung Goalie Head – Best Lacrosse Goalie Heads
The goalie is always your last line of defense. That is why, like with any player in the game, they need to have the best equipment. That said, STX Lacrosse Eclipse 2 is the among the best lacrosse goalie heads out there today. With its updated sidewall geometry, goalies are given the benefit of increased stiffness without having to carry any additional weight.
Ground ball performance is one of the things goalies have to focus on if they want to do their job properly. It seems STX is well-aware of that as it gives this head an innovative scoop design that lets its users enhance their performance considerably. Moreover, it also sports a throat design that is truly ergonomic.
3. STX Lacrosse Ultra Power Unstrung Men's Attack Head – Best Attack Lacrosse Heads
Without question, the best lacrosse heads attack gear simply has to be the STX Lacrosse Ultra Power. With its Revolutionary Power Ramp geometry, this lacrosse head not only improves the player's shot speed, but it also provides them with the consistency they need throughout the game. If you are an offensive player, then this is the lacrosse head you need.
This Head provides its users with unparalleled ball retention, something indispensable in the field. Moreover, it also sports the STX Speed Scoop design which effectively minimizes the drag typically experienced when quick scooping. This means that aside from the primary aspects of your offense, your groundball play is also supplemented by this lacrosse head.
4. Maverik Lacrosse Tactik Head Universal – Grey (Unstrung)
The Maverik Lacrosse Tactik Head Universal is another entry in the list of the best lacrosse heads 2020. Its overall construction and design are what make it stand out. Aside from being incredibly lightweight, this lacrosse head features a perfect release point that gives its users a much-needed boost. Add to that its use of X-rail technology, it is hardly surprising to find that this head is one of the best there is.
The head's optimal release point gives its users incredible levels of control. At the same time, it gives the head significant energy transfer during the act of shooting. The X-rail technology it uses only serves to make it even better as it lends the head the precise level of stiffness needed to ensure elite performance.
5. Evo Warp Pro 2 Head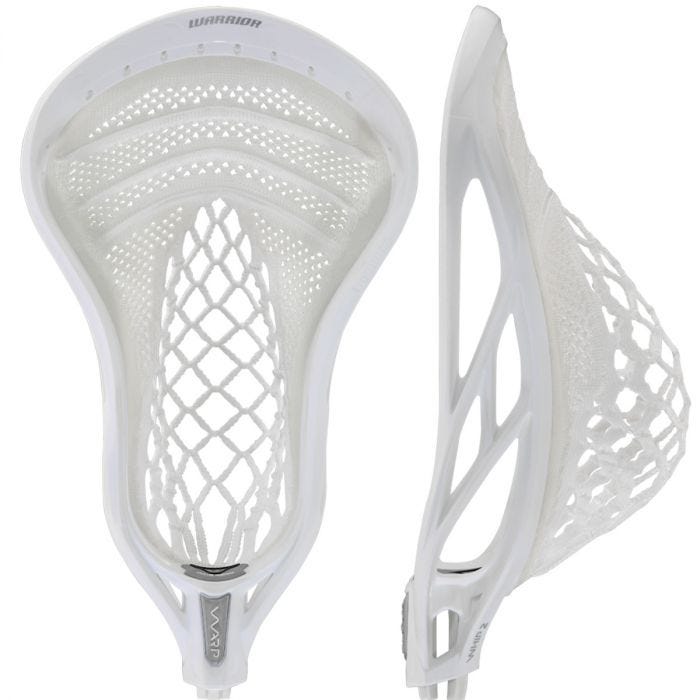 With this lacrosse head, you get full control of the ball and throw with accurate precision.
Evo Warp Pro 2 has the mid-low bottom rail with a firm face shape to give you all the control of your game. The tightened channel gives the much needed augmented accuracy. The 3d knitted wrap pocket has a mid-low pattern. It gives extra grip and hold, and also provides agility to throw the ball correctly.
Thanks to the new optional Loc-Throat, the head to shaft connection becomes more trustworthy but if you want, you can leave it aside for extra lightweight performance. This head has a truly ultra-lightweight composition. It features an SYM-RAIL design which takes the extra weight away and adds optimal toughness.
If you want to pass the ball quickly but accurately, then this head is for you. It is specially made for the midfielder playmaker and attackers to meet their needs for quick passes.
6. Maverik Lacrosse Tank Universal Unstrung Head
This head has the ability to make any defense player a team star.
With the level 5 bottom rail, expect this head to perform all your defensive tasks hassle-free. It is made to add power to the game. When in the hands of the right players, it can really become an ultimate defensive machine.
This latest edition has the maximum rail support thanks to its new 4-strust design. It gives the speed and full control over your game to produce a win-win situation for your team. Scooping the ground balls is also very easy with this big and wide head.
It is very simple to string this head which is also an advantage. Made for players of all kinds, this head is one of the best lacrosse heads available in the market today.
7. WARRIOR Lacrosse Burn FO UNSTRUNG, White
Designed with world champion Trevor Baptiste, this Warrior's head doesn't need much introduction.
This new face-off specific head has a universal pinch design which makes it ideal for diverse face-off styles like face-flex or traditional. It is typically made asymmetrically which gives it a balance between recovery, strength, and flex. You can have the perfect game with this head.
Bun FO has augmented throat tautness which gives extra strength to the head and enhances face shape recovery. But the throat design is shorter that adds more control and leverage to the head. Furthermore, its flexible left sidewall also provides better control.
String this head is also super-easy. Available in two colors, you can go for the one you like the most. All in all, this head has it all to take your game to a whole new level. It meets all the CLA, NCAA, NFHS, and FIL requirements.
8. StringKing Mark 2F Stiff Faceoff – Best Faceoff Lacrosse Heads
Undoubtedly, the StringKing Mark 2F Stiff Faceoff Lacrosse Head Strung with Type 4F Mesh is one of the best faceoff lacrosse heads in the market today. It brings back all the things that made the original Mark 2F great and elevated it. The final result is a lacrosse head made from incredibly stiff materials guaranteed to help you dominate those 50/50 battles.
Total ground ball dominance. This is one of the things that make the Mark 2F Stiff one of the great faceoff lacrosse heads out there. StringKing understands the fundamentals of lacrosse. That is why they give premium to control possession. With the Mark 2F Stiff, you have an angled scoop that lets you attack a loose ball from any angle you want.
This focus on control is made apparent in the major elements of Mark 2F Stiff's overall design. For instance, its sports a shortened throat that gives you a lot of leverage. In addition to this, it also features a high flair and straightened sidewall. Both of these ultimately serve to improve ball control.
9. Epoch Integra Z-One Strung Head
This Head is another worthy contender for the title of the best lacrosse head. Through its efficient and economical design, you can see that this is designed for the elite lacrosse players looking to improve their game. For instance, it sports a zone 1 pocket location that lets the ball settle at the head's lowest point, effectively giving you optimal levels of control.
Interestingly, this head sports what Epoch calls its iQ4 Flex. This means that the shaft can bend when needed while retaining its firmness. Again, this serves to gives its users intense control during high-pressure games.
Unlike most heads, the Integra Z-One does not make use of fiberglass. Instead, it makes use of a proprietary composite injected polymer. This means that you can expect this head to pack a serious punch as it gives you optimal strength, flexibility, and maximum energy without sacrificing durability or longevity to do so.
10. ECD Lacrosse Rebel Unstrung – Best Defense Lacrosse Heads
The defense is an underrated but equally important aspect of any game. This is a rule that definitely applies to lacrosse as well. That said, the East Coast Dyes Rebel rounded scoop is specifically designed to let you enhance your defensive game. We can confidently say that it belongs in the list of the best lacrosse heads for defense.
The rounded scoop may seem like a minor design element for the uninitiated. However, as any professional would tell you, it goes a long way in terms of helping you make groundballs. This is because it helps guide your stroke. With enough practice, you will have no trouble making them at even the most awkward angles.
In addition to this, the East Coast Dyes Rebel Defense Lacrosse Head is also incredibly lightweight, weighing at a mere 6.2oz. Remember, the last thing you want is a cumbersome piece of equipment. With this, you will have no trouble throwing checks and rapid shots.
11. ECD Mirage 2.0 Unstrung – Best Middie Lacrosse Heads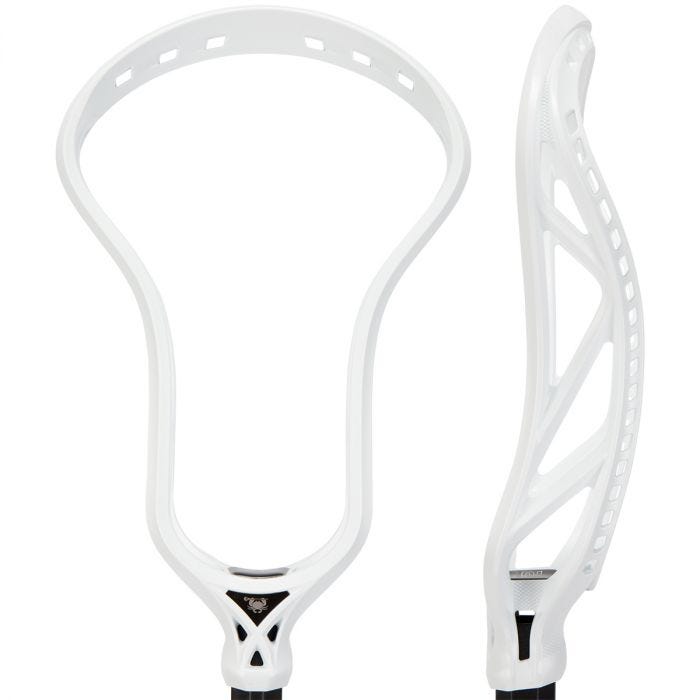 The East Coast Dyes Mirage Unstrung is the product of years of research and design. It is custom-built for extreme versatility. Needless to say, this makes the Mirage the best lacrosse heads for middies. Built for performance and durability, this lacrosse head is truly something special.
As you probably know, midfielders play all over the Lacrosse field. This means that they need to play both defense and offense. Aside from speed and endurance, middies also need a head that is intuitive and adaptable. The Mirage certainly delivers in this regard. For instance, its wide face shape and numerous holes in its sidewalls make the prospect of stringing incredibly easy. At the same time, its scoop makes it easy to enact groundball plays.
There you have it, the best lacrosse heads 2020. It should go without saying that finding a great lacrosse head takes time and effort. You need to weight the options available to you. Moreover, you need to consider the way you play your game.
Are you an attacking player? A defender? Perhaps you are a midfielder? Aside from your position, you must also look at your priorities as a player. It is crucial that you always keep these in mind when choosing a head. Only then will you be able to pick the best lacrosse head for you.
Is hard or soft mesh better?
Which one is better? Well, here are the details of the pros and cons of each one, so you can take the decision easily.
Hard Mesh For Lacrosse
What to expect when you have a hard mesh.
Pros:
When it comes to rain, it performs better
Has improved life expectancy overall
The ball sticks to one place and doesn't move here and there
The pocket shape doesn't change much
Cons:
Because of the mesh toughness, it is not easy to string
Extra break-in time due to hard mesh
Low ball feeling when the player is on the move
Soft Mesh For Lacrosse
What soft mesh gives you:
Pros:
Forever ready – no break-in time at all
Easy to string
Better feel of the ball when the player is on the move
Cons:
Potency to lose shape with time
Not good in the rain at all; as water fills in and makes it harder to use
Shifts and loosens very easily that's why constant maintenance is required
So, now you have to decide which one will suit you the best. If you are the player who doesn't mind now and then maintenance and easy break-ins then you should go for the soft mesh.
Otherwise, the hard mesh is for you with little maintenance.
What is the best mesh for lacrosse?
The pocket keeps the ball which gives it ultimate importance in lacrosse. Which mesh is the best for you? Well, the answer is simple. It is the one that fulfills your demands along with having high quality. But, the harder question is, how to know which one is the best for me? As there are different types of mesh available in the market today, so by knowing their traits you can know which one is the best.
Hard Mesh: If you are an experienced player, then you can go for the hard mesh. It requires skills to play with this mesh type. It is hard to break in and lasts really long. Also, when you play in harsh conditions, like snow or rain, this is the best mesh to go for. Because of its hard texture, you don't know where the ball is, that's why it is not recommended for the new players.
Soft Mesh: Also called semi-soft mesh is the mesh that is soft and best for the Box Lacrosse players. The ball feels better in the stick but the quality is not like the hard one. It is for the players who want to enjoy awesome fakes. This mesh is ideal for defensive players, dodgers, and finishers. It is also for the young players who are just initiating to play this game. Learning becomes easy with it.
Wax Mesh: This kind of mesh is coated with wax-like paraffin, beeswax, or microcrystalline. It has two different sizes. The 15 millimeters mesh is the standard diamond size, while the 20 millimeter is for the elite players. Depending on the need, it can be soft or hard. It is good for all kinds of weather conditions. It holds the ball better and has more whip so the players who want extra hold go for it.
6 Diamond Mesh: This mesh has 6 diamonds, not 10. It is thinner and works like a traditional mesh. The bigger diamonds offer a better feel and quick break-in time. It is for the veterans and the newbies might find it very difficult when playing with it.
Performance Mesh: Many companies are using this term now. It is a mesh made with high-quality material. It has knitted fibers and is consistent with the performance. The only negative is the price. It is a very expensive mesh.
What side of lacrosse mesh do you use?
You need to check the front, back, top, and bottom. The front side is a bit rougher than the back. This is the side that should make contact with the ball. The top one has nine diamonds while the bottom one has 10.
Check Other Gear:
Lacrosse and Hockey is my passion. This blog will show you these my passion. Just enjoy my blog and Thanks for Reading! Cheer!